Actualités
A report from the 2023 ILAB Presidents' Meeting in Stockholm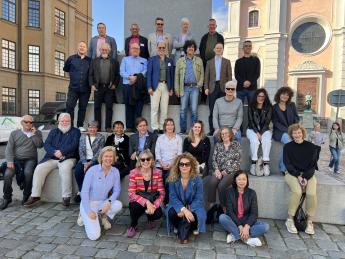 The "ILAB Presidents Meeting" is the annual plenary meeting of the presidents of all member associations (>> all member associations are listed here) of the International League of Antiquarian Booksellers. The meeting usually takes place in September and is hosted by one of ILAB's member associations. After two Presidents' Meetings during the pandemic, which had to be held via Zoom and could not be compared to an analogue face-to-face meeting, the presidents met again in Oxford in 2022 and now in Stockholm in September 2023.
The Presidents first met in this setting in 1948, a tradition now in its 75th year, and even in an age of videoconferencing, which is an enormous help in keeping in touch throughout the year, a face-to-face meeting cannot be replaced by Zoom.
The Presidents' Meeting approves and decides on the ILAB budget, discusses relevant issues in the international rare book trade and makes recommendations for projects for the coming year. Presidents give an update on their countries and markets, an element of the meeting that is most interesting to the participants as it gives a real insight into the international trade. What problems do we share? What works well in some countries and can be adapted in others? What issues need consulting and can be shared with peers to find solutions?

The 2023 ILAB Presidents' Meeting was no different.

First of all, we would like to thank Mats Petersson and his colleagues at the Swedish Antiquarian Booksellers' Association, Svenska Antikvariatföreningen (SVAF), for their meticulous preparations. It's not just a matter of organising everyone to come to Stockholm, finding hotels, meeting rooms and, yes, a few restaurants; the host nation usually takes the colleagues to see some bibliophile highlights, and Stockholm was no exception.
The week began with a meeting of the ILAB Committee on Monday 4 September.
The morning was spent going through a number of projects that ILAB has been working on over the past year.
Book fairs
are a major concern and commitment for many member associations, and ILAB gathered feedback on the development of fairs since the pandemic.
What is stopping dealers from exhibiting? Any thoughts on changes in book fairs in your country? What works and what does not?
Has your association introduced new ways of promoting fairs? How are non-ILAB fairs doing? How have visitor and exhibitor numbers developed over the last 5 years? What impact has a change of venue had?
ILAB committee member Scott DeWolfe, who also chairs the ABAA Book Fair Board, carefully analysed the responses and prepared a workshop session for the following day's Presidents' Meeting.
Also in 2022/2023, ILAB sponsored a number of stands at ILAB book fairs to allow new or recently established booksellers to apply for a free space. An initiative developed during the pandemic to support physical fairs.
A very exciting and engaging update was given by Philipp Penka, the new ILAB Mentoring and
Education
Coordinator; a new portfolio, set up in September 2022, which will focus on supporting educational initiatives in the rare book trade, has revived the ILAB Mentoring Programme, will facilitate scholarships and work towards a more diverse and inclusive book trade across borders.
A necessary portfolio set up in 2022,
Legal Monitoring,
has already started to produce results. Nicolas Malais and Angelika Elstner have been working closely with CINOA, the International Federation of Antiquarian Booksellers' Associations, to monitor legal developments relevant to the arts and book trade.
Most importantly, after many years of networking and campaigning, ILAB was able to apply for membership of a newly established expert group at the European Commission "Dialogue with the Art Market". (
Note by the Secretariat: Following the Presidents' Meeting, ILAB has been accepted into the group and will keep the membership updated about new developments. A first meeting will take place in December in Brussels at the European Commission premises
)
Nicolas Malais and Angelika Elstner attended a number of meetings at UNESCO in 2022 and 2023 and will continue to represent the rare book trade, using ILAB's extensive network when experts are needed.
Angus O'Neill,
Security
Chair and Vice President, gave an update on security issues affecting ILAB booksellers, the latest update on ILAB's Missing Books Register, a series of webinars for senior librarians worldwide in collaboration with the International Federation of Library Associations to promote ILAB's security initiatives and the Missing Books Register, and further ways to promote the Register to the trade beyond ILAB, law enforcement and through national associations were discussed.
The afternoon was used to finalise the projects to be presented to the presidents, to prepare for possible voting the following day and to finalise an action plan for the coming year. Much of the work each year is done by the Treasurer (Christopher Bailey), who works closely with the President (Mario Giupponi) and Secretary General (Sally Burdon) to review each project and situation.
All roles on the ILAB Committee, similar to national board positions, are voluntary and unpaid. The hours devoted to the wider rare book community, to promoting our trade and to running relevant international projects cannot be counted, and thanks are due to those booksellers who give up their time in addition to running their own businesses.
As Scott DeWolfe wrote in an email to the Secretariat after the meeting: "The trip to Stockholm is the longest I have been away from the business in 30 years!"