Actualités
"A kind, diligent and calming influence and a true gentleman": On the passing of Steven Temple
The Canadian Antiquarian Booksellers' Association, ABAC, has informed ILAB about the passing of Steven Temple, long-standing and highly respected bookseller in Toronto.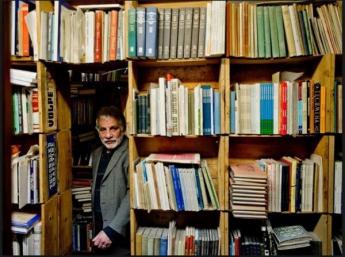 Steven Temple served as President of the Antiquarian Booksellers' Association of Canada from 2000 to 2002, and following that as General Secretary of the International League of Antiquarian Booksellers from 2002 to 2006.
On the note of his passing, some of his former colleagues on the committee expressed their condolences.
"Steven was a very nice man and I greatly enjoyed my years with him on the committee. He was devoted to his work as secretary: we once had a meeting as a committee at Bob Fleck's house/shop. Steven's luggage had not been delivered with his flight, and his flight was also delayed. He arrived late, by taxi, without anything but the clothes he was wearing, but, as he said, I've got work to do!"
Arnoud Gerits, ILAB President of Honour
"I was around while Steven was on committee and subsequently secretary. I also used to visit his shop in Toronto. He was a kind, diligent and calming influence and a true gentleman. He was also good company and will be missed by all who knew him."
Adrian Harrington, ILAB President of Honour
"Steven was at the forefront of that generation of Toronto rare book sellers that came to prominence in the 1970s and 80s. Many Canadian institutional libraries benefited from rare items he was able to acquire and place in their collections. Steve would remember your collecting interests and an occasional email from him would arrive quoting items that you would never think you would see. Always enjoyed chatting with him on a range of topics outside of just books. Sorry to hear of his passing and condolences to his family."
Matt Doyle
"I always enjoyed visiting the shop on Queen West, or stopping at his booth at one of the Toronto Antiquarian Book Fairs. This included chatting with Steven and usually resulted in learning something I did not know about some aspect of Canadian literary rarities. I think there may be an error in the obituary, as I believe that Steven was president of the Antiquarian Booksellers Association of Canada, not the Canadian Booksellers Association. May his memory be a blessing to his family and those who knew him."
Bernard Katz (U. of Guelph Library, retired)
An obituary was published in the Toronto Star on 10 September 2023
George "Steven" Temple, a loving husband, father figure, and esteemed bookseller in the world of books, passed away, on September 7, 2023, at the Niagara Health - St. Catharines Site, just days into his seventy-sixth year.
He leaves behind a legacy of love, literature, and a life well-lived. Steven was the beloved husband of Jennifer Temple (née Fraser), and their union brought together not only their hearts but also Jennifer's two sons, Istvan "Dugi" and Sandor Dugalin, whom Steven embraced as his own and guided as a father figure and friend. He shared a special bond with his siblings, Deborah, Gwenda, Janice, Joel Anthony, and Robert Christopher; and his dear friend, Jacob, who Steven referred to as his younger brother. Born to Norman and Marie (née Vogler), Steven Temple cultivated a remarkable bibliographical record.
He was renowned as the President with the Canadian Booksellers Association and Secretary of the International League of Antiquarian Booksellers, and books were not just his profession but his lifelong passion.
From 1974 to 2011, he owned his own storefront on Queen Street West in Toronto, where he shared his love for literature with the world. Steven was a man of many interests and talents. He was an avid long-distance cyclist, a connoisseur of Sudoku, and a gifted tenor saxophonist. His music often lulled Jennifer to sleep with the sweet melodies of "Alice in Wonderland."
His dedication to the literary world extended beyond his business, as he sponsored the Leon Rook Award, leaving an indelible mark on the literary community. In 2011, Steven and Jennifer made the move to Welland, where he continued to embrace life with open arms. Although he possessed a rough exterior, his heart was filled with empathy and compassion for those around him.
Steven thrived on taking risks and relished competition, never willing to settle for a life within the confines of a cubicle.