Stuttgart Fair Catalogue now published & available for download online
Even though an in-person fair is not yet possible due to the ongoing pandemic, the German Antiquarian Booksellers' Association, VDA, has kept with the tradition of its printed catalogue, an important component of the Stuttgart fair each year.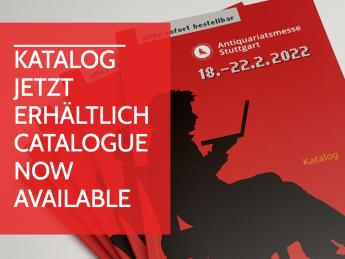 The much-anticipated catalogue of the Stuttgart Rare Book Fair 2022 has now been published and an electronic version of the fair catalogue is available forDOWNLOAD HERE
If you wish to order a printed catalogue at the cost of EUR10, please contact the VDA Office via email.

69 rare bookshops and galleries from Germany, Austria and Switzerland, the Netherlands, France, England and the USA have contributed to this year's catalogue and once again represent the entire range of the antiquarian trade.
All items listed are available for sale immediately.
Virtual Stuttgart Rare Book Fair starts on 18 February 2022 at 12 noon German time

The virtual fair will go live on Friday, February 18th at 12 noon German time, the normal opening time for the fair, at the following link VIRTUAL STUTTGART RARE BOOK FAIR and ends on Wednesday, February 22nd at midnight.

The platform allows exhibitors to upload up to 20 items with up to 10 images per item. Customers can move virtually from stand to stand, search by author, subject or use the full text search function.
Sold items will be replaced by new stock throughout the fair.

For detailed information and to buy, customers will then contact the booksellers directly by using the contact details provided.

Please follow this link to find out more about the individual exhibitors in the catalogue and the virtual fair.