Actualités
"Meet the New Old Book Collectors" and "Judging a Book by Its Dust Jacket"
... read a headline in the New York Times in the last weekend edition. A number of ILAB booksellers and collectors were interviewed on the occasion of the New York book fair sharing their love and fascination for old and rare books. Downloading the article is well worth it!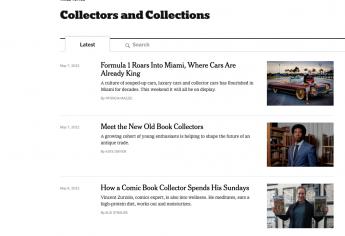 A wonderful selection of young, rare booksellers but also collectors visiting the most recent New York International Antiquarian Book Fair, were interviewed by the New York Times' Kate Dwyer.
"Late last month, during the New York International Antiquarian Book Fair at the Park Avenue Armory, Rebecca Romney withdrew a copy of "Howl, Kaddish, and Other Poems," by Allen Ginsberg from her booth's display case. She did so not to recite from its pages but to show off the writing in the margins.
Amy Winehouse had puzzled out lyrics to an unrecorded song alongside Ginsberg's lines. "You see her artistic process," Ms. Romney said. "And it's right next to someone else's art that she was consuming while creating something new." The Ginsberg text is the centerpiece of Ms. Winehouse's 220-book collection, which Ms. Romney's company, Type Punch Matrix, near Washington, D.C., is in talks to sell as a unit for $135,000. "It shows a life lived through books," she said.
Ms. Romney is an established seller known to "Pawn Stars" fans as the show's rare books expert. But at 37, she represents a broad and growing cohort of young collectors who are coming to the trade from many walks of life; just across the aisle, Luke Pascal, a 30-year-old former restaurateur, was presiding over a case of letters by Abraham Lincoln and George Washington.
Michael F. Suarez, the director of the Rare Book School at the University of Virginia, said that these days, his students are skewing younger and less male than a decade ago, with nearly one-third attending on full scholarships.
...
Brynn Whitfield, a 36-year-old tech publicist, started collecting antique chess books five years ago. "I'm getting more and more compliments about having these items in my house," she said. "People think it's cooler than typical coffee table books."Though used book sales thrive online, most sellers believe there's a serendipity that only browsing in person can offer."In our time, so much is trying to sell you what the machine thinks that you want already," said Josiah Wolfson, the 34-year-old proprietor of Aeon Bookstore, a subterranean shop in Lower Manhattan. "I don't want to presuppose what everybody is looking for, even if they are collecting a specific thing."

Extract from New York Times, 7 May 2022 by Kate Dwyer
The full article can be downloaded with a subscription HERE.