Three booksellers from the edges of Britain introduce themselves and describe how the ABA assists their businesses: Charles Cox (River House, Treglasta, Launceston, Cornwall), Alex Alec-Smith (The Old Rectory, Winestead, Hull, Yorkshire), Piers & Stephen Besley (Besley's Books, 4, Blyburgate, Beccles, Suffolk) ...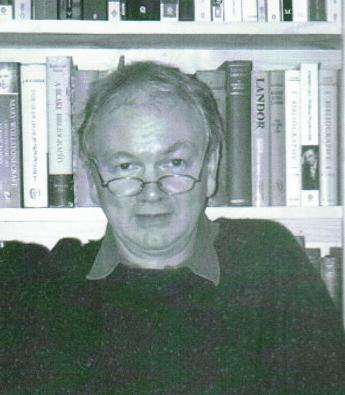 Charles Cox
River House, Treglasta, Launceston, Cornwall

Three booksellers from the edges of Britain introduce themselves and describe how the ABA assists their businesses.
West Barbary was what they once called Cornwall indication enough that it was traditionally a land of few books and fewer readers. Infertile ground, one might think, for antiquarian booksellers, and certainly it is true that here, hard by the bleak and unpeopled wastes of Bodmin Moor, I don't exactly rely on passing trade for my living. But selling old books has never been a sensible way of life and, like the old Cornish miners, we are used to crushing a lot of rocks to extract an ounce of ore. As far as selling is concerned, location matters less and less. We can all share a shop window as wide as the world wherever we live, and, anyhow, the best books will always sell themselves. It is, as we know, the finding and the buying of the exactly right book that's the difficult part, and booksellers, par excellence, are driven and beguiled by the fascination of whats difficult.

Geography does make a difference to this aspect of the business, but if at the fringes of the civilized world there are fewer books, there are at least fewer dealers elbowing each other aside to get at them, and thanks to auctions, private buys, customers and colleagues, I am certainly not short of stock. When first I advertised myself in the Yellow Pages I was the only bookseller to sport the ABA logo. In some subliminal way it said, I hope, I know what I'm doing. Take me seriously. Whether it really conveyed that message to potential vendors who can have had no real notion of its meaning I shall never know, but I have enough faith in the potency of symbols to continue the advert from year to year. It brings in a ton of spoil but - just occasionally - a nugget.

I have since been joined on the same primrose page by our colleague Ian Marr. For a moment, competition threatened but Ian lives in the soft and tepid south of the county: from my lofty northern I can look benignly down on him while from his perspective on the other side of the Moor I am, as he never tires of
reminding me, over the hill. All's quiet on the ABA's western front.

charlie@coxnbox.co.uk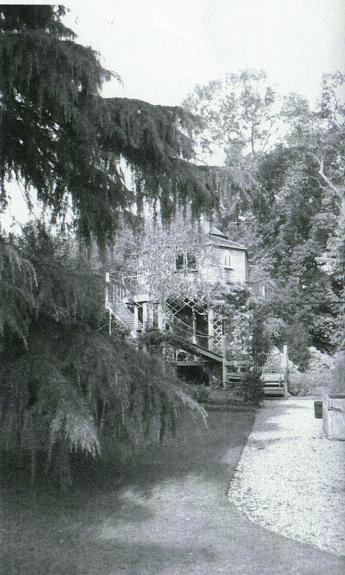 Alex Alec-Smith

The Old Rectory, Winestead, Hull, Yorkshire

Winestead's only claim to fame is that it is the birthplace of Andrew Marvell he by the tide of Humber would complain. I rather enjoy its muddy banks and been closer to them than I am now when I lived at Sunk Island, a land that has risen out of the river's murky depths. To the uninitiated, 15 miles east of Kingston-upon-Hull is in the North Sea, not down the Holderness peninsula, but the world wide web has made location less important, from a selling point of view, so I can happily lurk in my backwater and only need to emerge for the odd fair or to buy, which I do on a regular basis.

The internet is now an important part of my business and makes it much easier for me to trade from my forgotten corner. My own web site works well especially within certain fields - Byron and East Yorkshire topography, both being large enough to make it worth the customer's while and not too big for them to get bored trawling so, hopefully, they browse. The ILAB site did not work for me so I returned to ABE and I use Amazon for books with ISBN numbers. I still issue real catalogues to a slowly decreasing number of customers who continue to buy that way.

How the ABA office helps this far-flung member on a personal level is by guiding potential vendors my way when they have something in my specialist fields to sell. I will always go and look, so thank you John, Marianne and Ped. On a general level, I appreciate the benefits derived from the collective knowledge and experience of such a group of people. Somebody is sure to know the answer whatever the question, and someone else will try to unravel the red tape of bureaucracy.

www.alexalec-smithbooks.co.uk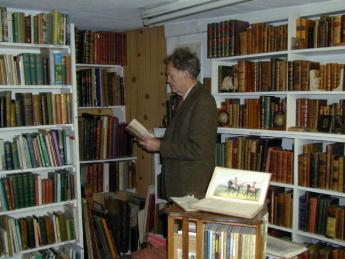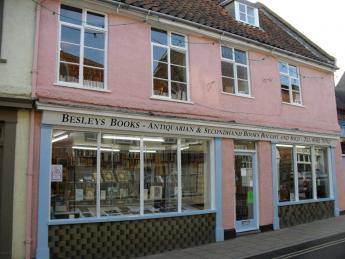 Piers & Stephen Besley

Besley's Books
4, Blyburgate, Beccles, Suffolk

The trouble with being the most easterly ABA member is that no book buyers live in the sea and communications with the rest of the country are terrible. But for those travellers from other points of the compass who do reach Beccles, we offer a traditional, family-run antiquarian and secondhand bookshop with four rooms on two floors, carrying a wide range of stock. The shop is open six days a week from 9.30am to 5.00pm. We also sell at fairs, by catalogue and on the internet. Do not be dismayed by the mention of the internet - most of our stock is not listed and never will be. The pleasure of rootling for treasures is still available in our shop. Some customers tell me that bookshops are a dying breed and that printed catalogues will soon be obsolete, but I do not believe it. Booksellers are a very resilient species.

Twenty years ago book fairs were supposed to be killing traditional book selling; now it is the internet. Our catalogues tend to appear sporadically: one is devoted to gardening and natural history, one to private press, art and literature, and a fresh venture is in the pipeline which will be devoted to Norfolk and Suffolk books.

www.besleysbooks.com

The article was first published in the ABA Newsletter 355 (December 2009). It is presented here by permission of the editor Brian Lake. Thank you very much.