Contact

Donald J. Lindgren

Adresse

2 Main Street, 18-214
Biddeford, 04005
États-Unis

Heures d'Ouverture

- Saturday: From 11:00 am to 17:00 pm
- Friday: From 11:00 am to 19:00 pm
- Thursday: From 11:00 am to 17:30 pm
- Monday: From 11:00 am to 17:30 pm

Open Saturdays and by appointment

Téléphone

Mobile

Fax

none

E-mail

Site web
Rabelais is always serving up fine books about food, wine, farming and gardening. We carry a sizable stock of rare, out-of-print and new books, alongside prints, photographs and other ephemera, all concerned with the pleasure of the senses. You can find thousands of books on food and wine, from comfortable old favorites to haute cuisine, from Southern fried chicken to molecular gastronomy. Whether you are a member of the profession and cook for a living, or a serious armchair epicure who cooks for dinner, we have inspiration for you. Rabelais also serves those inclined towards thirst. We have books on first growth wines and home beer brewing, cocktail culture and saloon society. We're very pleased to be serving institutional collections and working cooks. Rabelais is intimately involved with Maine's food community through organizations such as the Maine Organic Farmers and Gardeners Association and Slow Food Portland. We host author signings, art exhibitions and other events, some in conjunction with restaurants, farms and other local food organizations.
Spécialités
Gastronomie
Livres illustrés
Livres illustrés modernes
Agriculture
Jardinage
Livres d'artistes
Autres Spécialités
Wine, Cocktails, Food Politics, Design, Little Magazines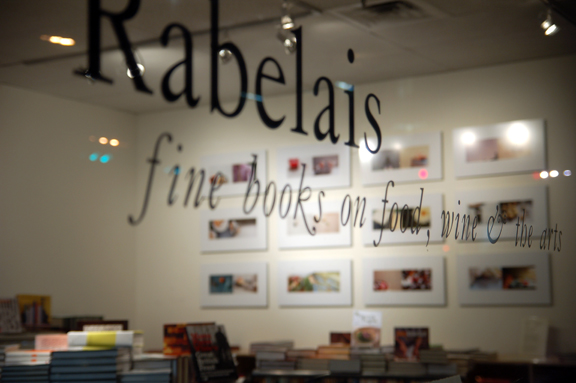 Les Catalogues de Rabelais Inc.